Comcast Wildcarding DNS
by kohashi (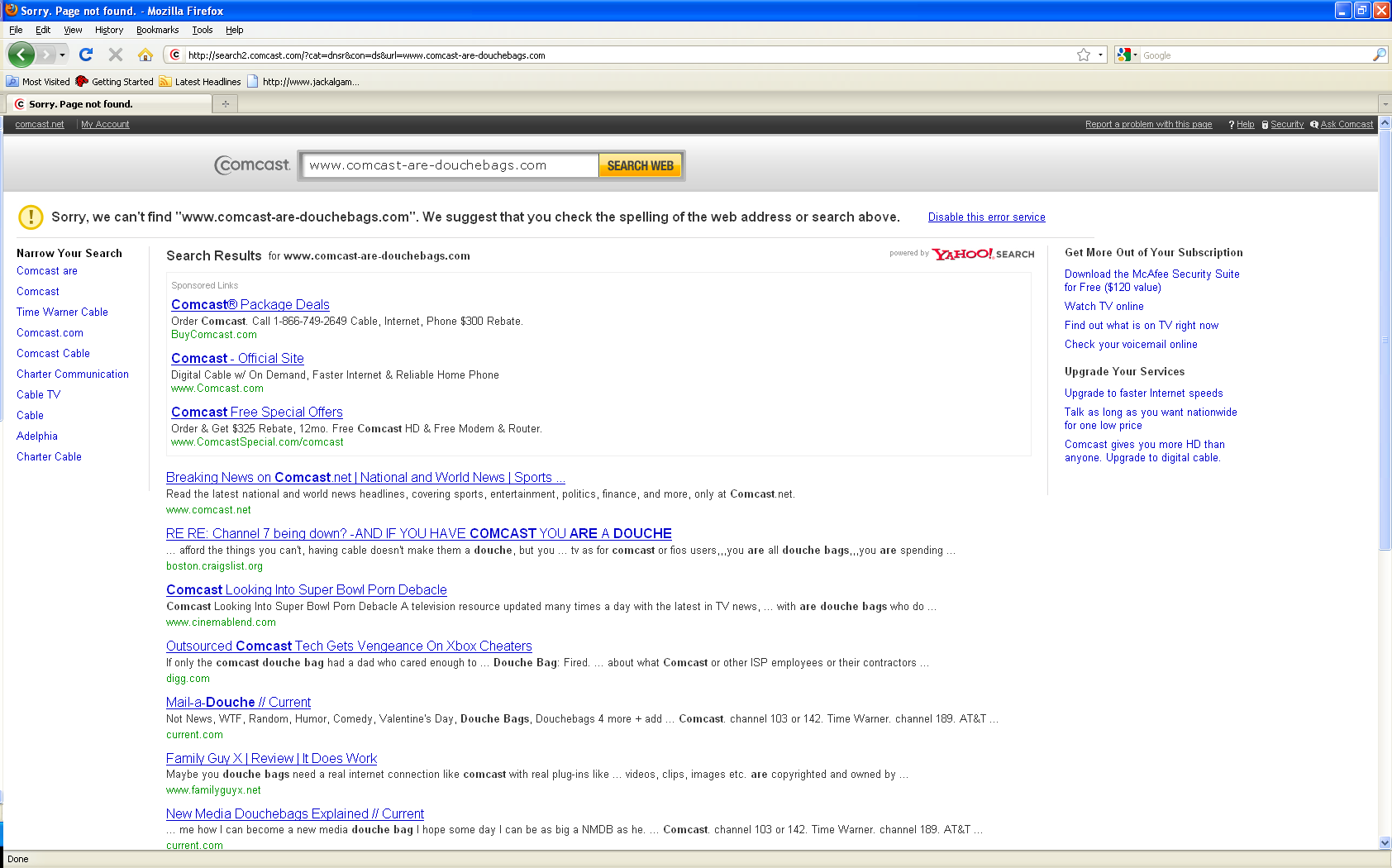 Thanks comcast.
Reading of the Day(8/14/09)
by kohashi (


Business:
http://venturebeat.com/2009/08/13/hacker-dojo-finally-a-hangout-where-co...
Hacker Dojo!

http://eideard.wordpress.com/2009/08/13/comcast-says-the-fcc-hasnt-the-r...
Comcast says FCC cant enforce net neutrality (go F*** yourself comcast)

http://online.wsj.com/article/SB1000142405297020400550457423399247866848...
rising health care costs pushes entrepreneurs to the limit

http://www.businessweek.com/smallbiz/content/aug2009/sb20090811_026953.h...
health care tax - effect of eslf employed

Tech/science:
A TV Show with an Episode about Domain Theft?
by kohashi (


So I am sitting with my family and the kids are watching Nickelodeon while I am on my laptop. But then they started talking about URL Transfer Documents. I can't help but watch. They had a whole show about a credit card failing to renew a domain and some kids' quest to get the name back. It's the only time I haven't heard the word domain or cybersquatter detailing the process. Was quite amusing. The show was called 'iCarly.com' or some such. Who would have thought that could be the content of a TV episode?
Reading of the Day (8/6/09)
by kohashi (


Business:
http://www.slideshare.net/reed2001/culture-1798664?src=embed
Netflix Corporate Culture (slideshow presentation)

http://nymag.com/news/intelligencer/58195/
Hot Waitress Economic Index

http://online.wsj.com/article/SB1000142405297020431360457432918384670463...
Review of The Management Myth

Science/Medicine/Tech:
http://www.dailygalaxy.com/my_weblog/2009/08/darwins-radio-prehistoric-g...
junk dna contains secret to fighting HIV

http://www.nouptime.com/
Funny webhosting site
Twitter Suspends Unused account for *suspicious* activity
by kohashi (


So I like twitter. It's no secret I think it's a neat platform for me to write applications. So I register quite a few accounts for my various websites and personal uses.
I've written a few bots (@WhoisBot and @StupidBot for example) and generally like to make accounts for my websites (@ProxyHost) but this caught me off guard.
Candy.com on CJ
by kohashi (


Just noticed candy.com is now on CJ.com. Very quick to develop, quite impressive.
eNom down?
by kohashi

Get this when I try and see my domains
Reading of the Day (7/23/09)
by kohashi (


Business:
http://www.icahnreport.com/report/2009/04/its-up-to-the-shareholders-not...
It's up to the shareholders to demand change

http://www.nytimes.com/2009/07/19/business/19corner.html?_r=1
Connecting the dots isnt enough

http://www.newsweek.com/id/207390
Joe Stiglitz about meltdown

http://www.theinquirer.net/inquirer/news/1468920/apple-sue-laptop-hunter...
Apple wants to sue microsoft over Laptop Hunters advertisements
Reading of the Day (7/16/09)
by kohashi (


Business:
http://www.wired.com/techbiz/it/magazine/17-07/mf_freer
http://www.thelongtail.com/
Chris Anderson's book free - released free on scribd, mp3 download, itunes, etc

http://www.technologyreview.com/blog/arxiv/23800/
Why Incompetence Spreads through Big Organizations

http://correntewire.com/great_american_bubble_machine_0
The Great Bubble Machine

http://online.wsj.com/public/article/SB116796079037267731-wjPu4ACcg5J5Qv...
The Man Who Shook Up Vegas

http://www.foreignpolicy.com/articles/2009/06/22/think_again_asias_rise?...
Umm, isn't that a DS lander?
by kohashi (


http://www.techradar.com/news/internet/web/8-infamous-tech-firms-that-we...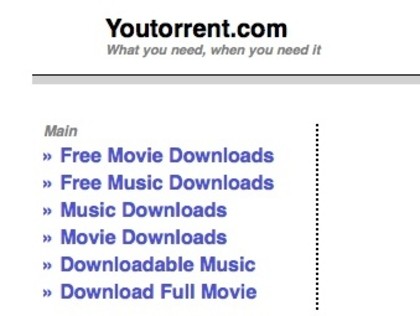 Oops?